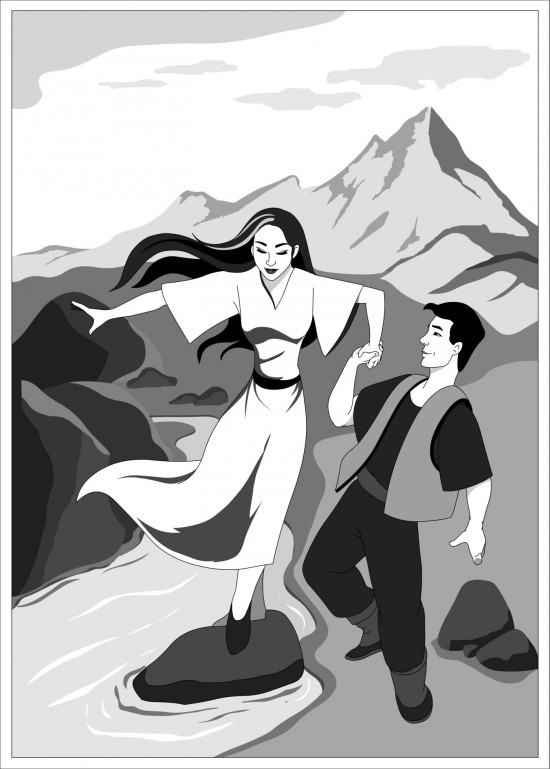 Ol әngimesin bastady.
Maraldyng men túratyn pәterge qarsy ornalasqan jaldamaly eki bólmeli «tetya Mashanyn» pәterine kóship kelgenderine birneshe ay ótip, jasymyzdyn shamalastyghyna qaramastan búlay ashyq syrlasyp otyrghanymyz birinshi ret. Ol óz ómirinen syr shertti.
...Bes jyl birge oqyghanda egiz qozyday birge jýrip, kýiip-sýiip qosylghan Bekjigitpen 10-jyl birge ómir sýrip, dýniyege eki sәby әkelgenmen, dәm-túzymyz jaraspay ajyrasyp kettik. Búryn eshkimdi mensinbey, «mahabbat degen adam ómirinde bir-aq ret oyanatyn sezim»-degen ústanymnyng jeteginde jýrgen men jolym bolmaghannan keyin betim әbden qaytyp qaldy. «Mahabbat» atty tenizge júbymmen shomylugha ýlken әzirlikpen kelgen men ómirding ýlken soqqysyn aldym.
Ómirde men ýshin Bekjigitten basqa jigit te, erkek atauly da bolmaytynday edi. Sóitken júbaylyq ómir men sýrgendey bolsa, ómirden erkeksiz óteyin degenmin. Sondyqtan bolar, erkek degen sózdi estisem boldy, bir jabayy hayuannyng atyn estip, kóz aldyma qorqynyshty beyneler keletindey. Týr-basym kelisken, óz isime pysyq әiel bolghan song ba, әiteuir «ýilenemin», «maghan kýieuge shyq, balalaryna әke ornyna әke bolam» degender de, ya bolmasa «oynap kýleyik, ómir degen erteng - aq bir kýndey bolmay óte shyghady, ókinip qalasyn»-dep pәlsapa soghatyndar da kezdesti. Júmysym bankte bolghandyqtan ba, júmysta da aldymyzdan ótetin adamdardyng kóbi erkekter edi. Qonaqtyq pen tughan kýn keshterinde nemese meyramdaghy otyrystarda bireulerding túla boyymdy bastan-ayaq kózimen tintip, ya erkek kózimen synay qaraghanyn sezsem, sol jerden syltau aityp, tezirek jylystap ketip qalugha tyrysamyn.
Osylay balalar dep, júmys dep jýrgenimde kýieuimmen ajyrasqanyma da zu etip tórt jyl óte shyghypty. Jasym otyz beske tolghanmen maghan 26-28 den artyq bermeydi. «Uaqyt bәrine emshi» degen shyn eken, kýieuimnen kórgen qorlyghym úmytyla bastady. Týn balasy azapqa týse bastadym. Ásirese, mahabbat, erkek pen әiel qatynasy turaly kitaptar oqyp, televizordan týngi seanstardy kórsem... tósegimde qyryq aunap úiyqtay almaymyn. Ómir boyy әkemmen túryp, oghan tas qorghanday arqa sýiep kelgen sheshem de, meni kýieusiz ólip qalatynday kórip, «әiel qyryq shyraqty degen, bir shyraghyng sónse basqasy bar, betinning әri barda senimdi bireudi tauyp al. Aynalanda jigitter shybynday ýimelep jýr, balalar saghan qolbaylau bolmaydy, ózim baghyp ósirem»-dep, «shybynsha ýimelegenderding eki-ýsheuining jaqsy jaqtaryn jetkizip, tek men tiygen jaghdayda qinalmay-aq, týzelip ketetin kemshilikterin aityp, jilikshe shagha bastaydy. Bir balagha zar bolyp jýrgen dos kelinshegim Qarashashta «joq bekzadany kýtkening jeter, jerge týssenshi. Ana jyndy baysymaghyng basyndy eshkimge qaramaytynday dualap qoyghan ghoy»-deydi. Jigittermen әzildesip, ashyq-jarqyn otyramyn, odan әrige bara almaymyn, odan әrige baru ýshin basty bir nәrse jetpeydi, eng ayaghy jan-tәnim men dene qúrylysymdy qayta jasap shyghu qajet siyaqty. Tósek jәili oilasam, kónilim qúlazyp sala beredi. Mening janymdy kim týsinsin, eng jaqyn adamdarymda týsinbeydi dep onashada kýrsinemin. Mening de oinap-kýlgim keledi, bir ret jolym bolmady dep, ózimdi әiel retinde «jerlep» tastamay, sýigim kelgen, sýiikti bolghym kelgen. Bireuding sýiiktisi bolsam, erkek qúshaghynda lәzzat alyp, oghan da lәzzat berip, denem balqyp jatsa ghoy, shirkin- degenmin.
Kýieuimmen alghash qosylghanda úzyndyghy ýsh metr, eni eki metr pәterde uaqyttyng qalay ótkenin bilmey, jan-tәnimiz qosylyp, bir adamgha ainalyp, jan lәzzatymen tәn lәzzatyna toymay, kýnning qalay atyp, keshting qalay batqanyn bilmeushi edik. Bir-birimizge kerek nәrse ekinshimizding boyymyzdan tabylatyn. Erkek pen әiel qatynasynyng әlippesi bir bólek te, ol turaly tereng әngime bir bólek eken. Erkek pen әiel qatynasy turaly tereng әngime degenning ózi de, ómirde kezdesetin nәrselerding jartysyn da tolyq surettep, jetkizip bere almaydy eken. Nege bizdi mekteptin jogharghy klastarynda júbaylyq ómirge ýiretpeydi eken deymin. Kishkentayymyzdan tamaq ishuge, kiyim kiige, ýsti basymyzdy taza ústaugha, oqugha, júmys isteuge ýiretedi. Al, adamgha eng kerek nәrse júbaylyq ómirge, erkek pen әiel qatynasyna ýiretpeydi, tipti tyiym salynghan nәrse sekildi súrasan, bireuleri «әli saghan erte» dese, ekinshileri «ol әrkimning jeke salatyn dara soqpaghy»-deydi. Ol soqpaqty әrkim ózinshe salady, ol ghylym bolsa ony әrkim ózinshe oqyp ýirenedi, bireui kitaptan, bireui kósheden, bireuding aitqanynan, oghan daghdylanatyndar da bireui jabayy týrine, bireui әdemisine, bireui erte, bireui kesh ýirenedi eken. Óz soqpaghyn tabamyn dep, adasyp, qatelesip jatqandar qanshama? Mening qolymda biylik bolsa, kýieulerimen tatu-tәtti túryp jatqandardy da, 20-jastaghy әielderdi bir bólek, 30- daghylaryn bir bólek, 40-taghylaryn bir bólek ýiretip oqytsa, tәjiriybe almassa, tuyndaghan súraqtargha birge jauap berse, kóp mәsele sheshiler edi. Erkek pen әiel arasyndaghy týsinbeushilikter bolmas edi, ajyrasular da az bolar edi. Balalar әkeleri bola túra tiri jetim atanbas edi-dep oilaymyn. Kóp problema týsinispestikten, týsine almaudan, týsiniskisi kelmegendikten tuyndaydy emes pe? Jengenin, әpkenin, enening aqyl-kenesterimen shektelip qalmau kerek. Sebebi, bir ýidin, bir auyldyng әielderine úyat kórinetin nәrse, ekinshi ýy men ekinshi auyldyng әielderine úyat emes, qalypty jaghday bolyp kórinui mýmkin. Búl mәselege de kenirek, bir auyl, ne, bir oblystyng shekarasynda emes odan da kenirek qarau kerek sekildi.
Mening kýieuimmen ajyrasyp ketuime sebep - men ony bes jyl boyy qanshalyqty sýisem, on jyl birge túrghan uaqyt ishinde jaqyn bile kele sonshalyqty jek kórip ketkenmin. Bizder kezdesip, birge qydyryp jýrgen kezimizde ol maghan tek jaqsy jaghynan kórinuge tyrysqan. Men de ony tek jaqsy jaghynan kóruge tyrysyppyn. Al, ekinshi sebep aramyzda erkek pen әiel arasyndaghy «gormoniyanyn», yaghniy, ýilesimdilikting joqtyghynan da edi. Onymen tósekte әieli bolghandyqtan, amalsyzdan júbaylyq mindetimdi óteu ýshin jatamyn. Ol óz qyzyghymen ózi bolyp jatqanda, men onyng bir qajet zatynyng mindetin atqaryp, eshtenege aralaspay, «júmysyn» qashan bitiredi eken, tez bitirse eken dep jatatynmyn. Keyde «tezirek úiyqtap qalsa eken»- dep, ýy sharuasyn istep jýrip alamyn. Biraq, ol úiyqtamaydy, onyng aituynsha «artyq energiyalaryn» shygharyp almay úiqysy kelmeydi eken. Odan qalsa, týnde de, tanerteng de mazalaytynyn qaytersin.
Dýniyege birinshi sәbiyim kelgennen keyin tósek mәselesi maghan tozaq sekildi kórindi. Erkek dese, artynan tósek mәselesi qyltiyatynyn biletin maghan bireudi tauyp alu qaydan? Erkekterding biri jaqsy kóretinin, ýilengisi keletinin aitsa, keybiri meni toqal retinde alyp, «bólek otau» jasaytynyn, aqshadan da, basqasynan da kemdik kórmeytinimdi aityp sharshady. Sonynan keybireui netken «salqyn» әielsing dep, teris ainalsa, kýder ýzbegen keybireuleri «ýsh-tórt jyl osylay typ-tynysh etegine namaz oqyp jýresing be?» dep, «deni sau, ózi súlu әiel әnsheyin ishki múnyn syrtqa shygharmay jasyrady da»-dep ayaushylyq bildirgendey bolady. Ómir, tabighat zany óz degenin istetedi me, әlde ózimdey dos qúrbylarymnyn sózi qamshy boldy ma, men «bireudi» izdeuge bel sheshe kiristim.
Ýilenemin degenderding birimen birinshi ret tósektes bolyp edim, ertenine ol meni menshiktep alyp, «men seni únatamyn, tósekte de únaysyn, ýstine bir týsti kóilekter kiyip jýr, men kóilekterinning «kletkasyn da», «poloskasynda» da únatpaymyn» - dedi. Mening qanday týsti kóilekterdi únatatynymdy da súraghan joq, onyng ýstine bir týsti kóilekterin әkelip tastaghanday sóiledi. Ony osydan keyin únatpaytynymdy da, tósekte de únamaytynyn aitqan joqpyn. Tek «hosh, bol, endi habarlaspa» - dedim. Endi ýilenemin degenderdi qoyyp, (olar meni menshigindegi zattay kóretin sekildi, tipti olardyng talghamymen kiyinudi de talap etpek, al men óz basymnyng erikti bolghanyn qalaymyn) «oynap-kýleyik»-deytinderdi kóreyik dedim. Olardyng biri Ábekeng «restorangha baramyz, әdemi kiyinip otyr, alyp ketemin»-degen son, barymdy kiyip shyqqanda, ol «Naghyz Qyz Jibekting ózi bolypsyng ghoy»-dep, rizashylyghyn jasyra almaghan.
Qymbat sheteldik mashinasymen bir restorangha apardy, onda shu kóp eken, muzykasy da kileng oryssha dep, ekinshisine apardy. Ábekenning de tanymaytyn kisisi joq eken, múnda da alghashqy restorandaghyday bireulermen japyrlasyp amandasyp jatyr. Onda qymbattyghyna qaramay, tamaq mәziri mәz emes eken dep, aqyry ortanqol kafege otyrdyq. Birneshe júma onymen «drujiti» etip jýrip, tósektes bolghanda, qyryqqa tolmaghan kәsipker jigitke sezim de, әiel de kerek emes, tek súlu naqsýieri, ne ekinshi әieli bar degen ataq qana kerek ekenin týsinip, onymen de birjola qoshtastym. «Shybynsha ýimelegenderdin» ishindegi ekeuinen kónilim qalghanmen, ýshinshi boydaq, ajyrasqan erkekten «men saghan ne ýshin kerekpin, bayy joq әiel bolghan song kolleksiya ýshin kerekpin be?» dep, tótesinen súradym. Ol da jigit eken mәimónkilemey bergen tura jauabynan shalqamnan týse jazdadym. «Men seksting әr týrimen ainalysqym keledi, viydeolardan kórgenderdi istep kórsem deymin. Erkek pen әiel tósekte bir-birinin qalaghanyn isteuge әzir bolsa ghana, tósek qatynasynyng mәni ashylady»-dedi. Men múnday pikirge kelispeytindikten, eksperiymentke bara almaytynymdy bildirdim. Erkek pen әieldi tósek qatynasyna aparatyn jol, meninshe, ózi-ózinen, esh әzirliksiz, oyanghan sezimnen keyin tabighy týrde payda bolu kerek siyaqty.
Sóitip, az uaqyt ishinde ýsh erkekting atyn syzyp tastap, jaqsy erkekter әielderining qasynda, eshkimge qajeti joq jaman erkekterding maghan da qajeti joq dep, ózimning intimdik ómirime moratoriy jariyalap, alansyz tirligime kiristim. Tipti, erkek, jigit degendi boyymnan da, oiymnan da óshirgen sekildi edim. Endi tek bar oiym júmysta bolady, kariera jasaymyn - dep bekindim. Biraq, bәri qúdaydyng qolynda degen ras eken.
...Jyly kýzding jeksenbisi edi. Balalardy mamama aparyp tastap, ýidi әkteuge kiriskenmin. Keshqúrym әreng bitirip, qatty sharshap túrsam da monshagha baruym kerek boldy. Onyng keshki saghat ongha deyin isteytinin bilemin, әri ýiden alys bolmaghan son, әri, kir deneme taza kiyim kiyemin be dep, sol kýii kir kiyimmen bara saldym. Ýstimde әkten aghal-jaghal bolghan kofta, tómengi jaghymda triko, shalbar, basymda kepeshtep baylaghan kónetoz aq oramal. Monshagha kelip, entigip ishke ensem, kezekte birtalay adamdar otyr eken. Monshanyn birneshe jeke kabinaly, dushy bar, soghan biylet alyp, mende bos oryngha jayghastym. Qarsy bette tórt-bes erkek kezekte otyr. Ýstimdegi las kiyimimnen ynghaysyzdanyp, tómen qarap otyrsam da, bireuding meni baqylap otyrghan kózqarasyn sezdim. Nege ekenin qaydam, sirә, las kiyimnen úyalghan boluym kerek, búl ne qylghan adam dep basymdy kóterip qaraugha da batylym jetpedi. Ishimnen ózime renjip, әnsheyindegi «attylygha jol, jayaugha sóz bermeytin» ójettigim qayda ketken deymin. Kezegim kelgende eshkimge kóz salmastan dushqa kirip kettim.
Rahattanyp, dushqa tiyesili 45 minut shomylyp, shashymdy sәl keptirip, esik aldyna shyqsam týn tastay qaranghy eken. Kisi ayaghy basylghan kóshe qorqynyshty. Kózimdi qaranghygha sәl ýiretip alyp, bir ayaldamaday jerdegi ýiime asyqtym. Qatty sharshaghandyqtan ba, әlde kóshe asfalitynyng oidym-oydym jeri kinәli me, bir kezde sol ayaghym kilt etip, onbay qúlap týstim. Kózimnen jas yrshyp ketti. Qaranghyda eshkim kórmedi dep, quansam da, ekinshi jaghynan túra almaghanym jaqsy emes edi. Bir-eki minutta basyma san týrli oilar keldi. Eshkim bilmey jatyp qalsam qaytemin, bireuler úrynsa qaytemin dep, uayymdadym. Bar kýshimdi jinap túra berip edim, jan dauysym shyghyp ketti. Osydan son, jaqyn jerdegi ayaldamadan bireuding súlbasynyng maghan qaray bet alghanyn bayqadym. Boyymdy qorqynysh biyledi. Jaqynday bere tartyp kele jatqan temekisin ayaghymen basyp óshirdi. Ózimshe namystanyp týk bolmaghanday bir ayaghyma bar kýshimdi salyp túra berip edim, «qozghalmanyz» degen aqyryn bolsa da nyq, әmirli dauys estildi. Ne oilarymdy bilmey, ainalamdy qolymmen sipalap tas izdedim. Ne bolsa da qorghanyp baqpaqpyn. Jaqyndaghan ol mening oiymdy týsingendey, «qoryqpanyz, sol ayaghynyz ghoy, kәne oghan kýsh salmay túryp kórinizshi»-dep meni demep túrghyza bastady.
Býkil jan-dýniyemmen onyng bet jýzin kórmesem de, búl adamnyng monshadaghy kezekte meni kózimen baghyp synay qarap otyrghan erkek ekenin sezdim. Qalay qoltyghymnan demese de mening jýre almaytynyma kózi jetti ghoy deymin. Túratyn jerimdi súrap alyp, qol dorbasyn maghan ústatyp «moynymnan myqtap ústap al» - dedi de kóterip aldy. Ózimdi et jendi bolmasam da, biraz salmaghym bar dep esepteytin men basqa shara joqtyqtan ba, әlde maghan beytanys jannyng ayaq astynan kelgen qamqorlyghy únady ma, aitqanyn eki etpedim. Ol alqyna dem alyp, adymdap jýrip keledi. Óz oilarymmen alysyp kele jatqanymda «endi qalay qaray jýremiz?» degen dauys estildi. Dausy bar ghoy, onday dauysty estisen, ainalannyng bәrinde bey-jay mamyrajay tirlik ornay qalghanday әser etedi. Adamnyng dauysynyng sonshalyqty әser etetinin birinshi ret kórip túrmyn.
Bir ayaldamaday jerge kóterip kelgen adamnyng aldynda endi men ynghaysyzdandym. Ýige kiriniz, shәy iship ketiniz dep, bir jaghynan aurudan, bir jaghy ol sózderdi әnsheyin tek bergi jaghymnan sypaylyq saqtap aitqanym ýshin ózimnen ózim úyalyp zorlana kýlimsiredim. Ishimnen qaydaghy shәy deymin. Ýy ishi astan-kesten. Múryn jarghan әk iyisi maghan únaghanmen oghan únamauy mýmkin. Boyym beytanys jangha ýireneyin dedi me, endi men oghan zer sala qaradym. 43-45-degi boyy engezerdey, tip-tik erkek. Kózderi adamgha bir týrli múndy qaraydy, kózqarasy adamdy terenine tartyp әketetindey. Tek betining kólemdi jerin ala ornalasqan múrny da ózinshe jarasymdy ornalasqan. Istegen jaqsylyghy ýshin rahmet aityp, aqsha nemese bir shólmek araq ústatyp ýiden shygharyp salu kerek dep oiladym. Mening jalghyz ekenimdi bilse, ketpey otyryp alsa qaytemin? Taghy oiyna ne kelerin kim bilsin dep oiladym. «Jaqsylyghynyz ýshin rahmet. Menen qaytpasa qúdaydan qaytsyn, sigaret alarsyz» - dep, myng tenge aqsha úsyndym. Oghan tәuirleu araq, ne importqa shyghatyn bes júldyzdy «Qazaqstan» koniyagy keletinin bilemin. Ol bolsa «Jaqsylyqty qúday ýshin, ya aqsha ýshin jasaghan joqpyn»-dep dýnk ete qaldy. Odan keyin ýi-ishin barlap ýlgirse kerek, «jalghyz bolsan, men eshqayda ketpeymin»-dedi. Shoshyp ketip: «O ne degeniniz, qaytynyz, ýiinizge qaytynyz» dep edim, «Seni búnday kýide jalghyz tastaugha bolmaydy. 1-2 saghattan keyin ne bolatynyn kim biledi?»-dep qosyp qoydy, mening bir әkem ba, agham ba sekildi ózi. Aty Dosbol eken.
Qoryqsam da syr bermeuge tyrystym. Qozghala almay otyrmyn. Mening aituymmen ol zaldaghy divangha ózine tósek salyp, maghan balalardyng bólmesine tósek salyp berdi. Enbektep jýrip, jastyq astyna ýidegi eng ýlken ótkir pyshaqty jasyrdym. Sol kýni ol tang atqansha qasymda boldy. Ózi eshtene súraghan joq. Mening súraqtaryma qysqasha jauap berdi, biraq, ózining jeke basy men janúyasy turaly eshtene aitpady. Mening qarsylyghyma qaramay, ayaghyma kamfora mayyn óz qolymen jaghyp berdi. «Siniri sozylghan ghoy, eki-ýsh kýn qozghalma, eshtene etpeydi, biraq, rentgenge týsip, tekseru artyq etpeydi»-dedi. Meni tandandyrghany onyng maghan әiel dep qaramaghany edi. Oghan men sәl-pәl renjip te qalghanday boldym. Iә agham, iә inim sekildi. Tang atqansha qasymda tuysymday otyryp shyqty da, tanerteng kórshimdi shaqyryp berip, «sau bol, endi qúlama» dep, jәy ghana shyghyp ketti. Ishimnen «impotent» dep oiladym. Sol sebepti maghan qauipsiz kórindi, ketip bara jatqan onyng artynan «kelip túrynyz» - dep aiqaylap ýlgerdim. Maghan kezdesken, ne men biletin erkektermen salystyrghanda ózime sol «impotent» degen teneuim dúrys sekildi boldy. Mening esimde onyng múndy kózqarasy men bóten, bir kórgen әielge jaqyn tuysyna jasaghanday jaqsylyghy ghana qaldy. IYә, sosyn shamamen 4-5 ayaldamaday jerde túratynyn aitqany esimde.
Arada birneshe aiday uaqyt ótti. Balalarymdy mamama aparyp, dos qyzymnyng tughan kýnine barghaly jatqanmyn. Búl uaqytta taghy bir «shybynsha ýimelegennin» atyn syzyp ýlgerdim. Esik qonyrauy qaghylghangha ashsam, monshadaghy tanysym, Dosbol eken, júmys babymen úzaq uaqyt issaparda bolypty. Ayaq astynan batyldanyp, «tughan kýnge birge barayyq» - dedim, janúyasy turaly eshtene aitpasa da, әlde bir ishki týisik arqyly әielsiz túratynyn sezgenmin. Onyng ýstine istegen jaqsylyghy da mening tarapymnan óteusiz qalghan. «Barmaymyn, ayaghyng jazyldy ma, mýmkin bir jerge baryp otyrarmyz degem, tek jaghdayyndy bileyin dep keldim» - dep qaytugha jinaldy. Meni ayaq astynan ne shaytan týrtkenin bilmeymin, dos qyzyma kórshi ýiden telefon soghyp, bara almaytynymdy aittym da, onymen birge barugha kelistim. Kafege bardyq. Ol aq araq iship otyrdy, men ózime qyzuy 11-12 gradustan aspaytyn, qyzyl, qoy tәtti shie sharabyn aldyrdym. Ár nәrseni bir aityp kónildi otyrdyq. Odan ýige kelip shәy ishtik, muzyka qoyyp biyledik. Maghan onymen birge bolu únaytyn sekildi.
Bir kezde ol «Maral, bir jerge baryp demalayyq»-dedi. «Demalayyq» degendi qalay týsinuge bolady? «Demalyp otyrghan joqpyz ba?»-dep, úsynysyna súraqpen jauap berdim. Neni menzep túrghanyn ishim sezip túr, biraq, moyyndaghym kelmeydi. «Sen bәrin týsinip túrsyng ghoy Maral, ótirik aitu, ótirik qylymsu qolynnan kelmeydi. Ol sening tabighatyna jat. Al týsinbey túrsang aitayyn, sendey qylyqty әielding qasynda ózindi ústau óte qiyn, senimen tósekte birge bolghym keledi»-dedi nyqtap. Mәssaghan, dep oiladym ishtey, al kerek bolsa. Men oghan erkek sekildi qaramap edim, alys bir tuysym sekildi esimde qalghan. Ótkendegi istegen jaqsylyghyn búldap túrghany ma dep te oilap ýlgirdim. Oiyma kelgendi asyghys aita bastadym
- Sizben be? Men sizdi sýimeymin, siz de meni sýimeysiz. Men sizdi bar bolghany ekinshi ret qana kórip otyrmyn - dedim tamaghym qúrghap.
- IYә, sýimeymin, ol turaly oilaghan da joqpyn. Biraq, senimen birge bolghym keledi. Múnday tilek deysing be, qúshtarlyq deysing be, maghan kelmegenine kóp bolyp edi. Al sening menimen birge bolghyng keletinin kózin, jan-tәning bәri aityp túr. Tek auzyng ghana basqasha sóilep túr, adamdardyng auzynan shyqqandarynyng toqsan payyzy ótirik, sening aityp túrghan sózderin sol toqsan payyzdyng ishine kiredi-dedi. Jaqsy psiholog qoy mynauyn. Janymda arpalysqan ashu-yza ma, keudemde kóterilgen әlde bir tolqyndardy baspaq bolyp, ishimnen «nahal» dedim de, onyng aitqandaryna mәn bermegen bolyp, muzykany auystyryp búryla berip edim, ol artymnan kelip túr eken. Betpe-bet kelip qaldym, ystyq demi órtep barady, tap basyp aita almaymyn, әiteuir boyynda әieldi iyliktirerdey kýsh bar. Ol qúshaqtay alyp, ernime jabysty, túla boyym tok jýrip ótkendey dir ete qaldy. Áyel degen otyz bes jasta da on segizdegidey kýy keshedi eken dep oiladym. Azdan keyin ystyq pesh qasynda otyrghanday sezinip, kózderim júmylyp, ayaqtarym basudan qalyp, buyndarymnyng bylq-sylq etip yrqymnan shyghyp bara jatqanyn anghardym. Ekeuimizde bir-birimizdi sýimeymiz, sonda qalay tósekte birge bolmaqshymyz degen oy sanamdy jaulap aldy. Aldyndaghy erkekter eng bolmaghanda meni sýietin sekildi edi, olaryn bireuleri úzaq , bireuleri qysqa uaqyt sezdirip jýretin. Al mynau bolsa tas tóbemnen týsirgendey «sýimeymin, ol turaly oilaghan da joqpyn»-deydi ghoy, al, kerek bolsa! Seksti erkek pen әielding arasyndaghy (eng bolmaghanda bir jaqty) sezimning songhy shegi dep esepteytin maghan, búl qylyqtarymyz óte ersi kóringenmen, maghan nege jaghyp bara jatqanyn bilmeymin. Jan–tәnime biyligimdi jýrgizuden de qalyp bara jatqan son, «meyli, qúday bir ózi keshirsin»-dep bir kópten ansaghan lәzzattyng qúshaghyna batyp bara jattym. Ol meni soghyssyz alghan jauynday, sol jenisining seremoniyasyn úzaqqa sozghysy kelgendey, ayalay aimalaghan kýii sýie berdi.
«Sorshy»-degendey tilin de tyqpalamay, ne keybir erkekterdey júlyp alarday sormay, erkin, әdemi, júmsaq sýiedi eken. Men bir by bilmeytin jas biyshi sekildimin, al, ol әdemi bir biyding bar qyr-syryn jetik biletin múghalim sekildi, ózine tәn mahabbat by alanyna, joq, joq ekeumiz de bir–birimizdi sýimesek qanday mahabbat bolushy edi, seks deymiz be, әiteuir erkek pen әiel arasyndaghy qatynastyng by alanynda meni dóngeletip bara jatty. Bir qatty susap kelip, móldir búlaqtan qúnygha su iship jatqandaymyn. Bir móldir búlaqtyng zәmzәmin qúnygha jútudamyn. Aynalam dóngelegen ghajap dýniye. Kógildir, jasyl sәulelerge toly, meni terenine tartyp barady. Esimdi sәl jinaghan sәtte «neghyp meni sheshindirmeydi, әlde ózim bastap sheshinuim kerek pe?» degen oy jylt etti.
- «Maral, jýr kiyin, kettik»-degen sózdi estigende shyn dýniyege qayta oraldym. Ol entigip túr, shashtary qobyrap ketken. Múndy kózderi, túnjyray qaramay, jalt-júlt etedi. Osydan bes, әlde on minut, әlde jarty saghat búrynghy Dosbol emes, basqasha kýige týsken. Onyng boyynan jiyrma bestegi jigitting ekpini de, óz kýshine senimdiligi men, óz isine degen myghymdylyq ta, meni kózderimen iship-jegen erkektik qúshtarlyq ta, atmosferany jaylap alghan, janasqan nәrsesin ertip jibererdey qyzulyq ta bar jәne kózderinen bir ishtey arpalystyng otyn da shalyp qaldym.
- Nege basqa jerde? –dedim onyng qúshaghynan ajyraghym kelmey.
- Men shalbar kiyip jýrgen erkek emespin be, seni tósekke shaqyrghan men, sondyqtan iә mening ýiime, iә qonaq ýige baramyz.
- Joq, joq, osy jerde, maghan senen basqa eshnәrsening de, eshkimning de keregi joq –dedim, úiqyly-oyau janday. Bir minutta janaghyday lәzzatty shaqtan ajyraghym kelip túrghan joq. Mening ernim onyng erinderin ózi izdep tapty. Otyz beske kelgenshe erkekti óz bastamamen sýigenim osy shyghar. Al qoldarym aqyldyng tyiym salghanyna qaramay, onyng kóilegining týimelerin aghyta bastady. Onyng qay kezde astymyzgha kórpe tósegenin qaydam, meni aimalauyn jalghastyryp sheshindire bastaghanda, ishimde arpalysyp jatqan eki sezimning biri jenip, әlsiz qarsylyghymdy da qoyyp, onyng әreketterin ýnsiz qoshtaumen boldym. Denem janyp-kýiip bir belgisiz әlemge tap bolghandaymyn. Yapyr-au, meni de pәlenbay jyl kýieude bolghan әiel deydi-au. Al mynaday ghajap әlemge, tәtti kezenge tap boluym birinshi ret. Ózimning erkimnen tys onyng búlshyq etterin syipalap, tósinen aimalap jatqanymdy sezemin, ózime ózim úqsamay ketippin ghoy-dep oiladym. Mas adam sekildimin, biraq, eki-ýsh saghat búryn ishken әlsiz sharaptyng qyzuy bayaghyda ketip qalghan, aramyzda eng bolmaghanda bir jaqty da sezim joq, ony ekeuimizde moyyndaghanbyz, sonda nege maspyn deymin? Shynymen men ony jaqsy kórip qalghanmyn-au deymin. Adamdy bilmey túryp jaqsy kóru mýmkin be deydi?-ekinshi oiym. Mynau sorly denemning erkime kónbey, nege bylq-sylq ete qalghanyn týsinbeymin. Auzyma bireu tәtti әkelip dәmin jana tata bergende, qayta tartyp alarday shydamsyzdanamyn. Nege bastamay jatyr, mening tilegimdi týsinbegeni me? Múnday kezde qimylyna baqylau jasamaysyng ba, әlde úyat degen bir jaqqa ketip qalady ma, әlde tabighat zanynyng aldynda adamdar әlsizdigin moyyndaydy ma, mening qoldarym eriksiz onyng denesin syipalay bastady. Mening qoldaryma býkil jan-tәnim ghana emes, býkil tabighat, ainalamdaghy qyzyldy-jasyldy úshqyndar meni órtep, jalyngha orap, talyqsytyp jatqan әlde bir kýsh-barlyghy qosyla mening qoldaryma әmir etkendey. Onyng bar kýshi syrtyna shyghyp túrghan mýshesi mening sezimge mas bolghanymdy kýtip túrghanday, seksti ansaghan tәnime jaqyndap, birer sekundtardan keyin, ekeuimiz bir adamgha ainalyp kettik.
Búnday da rahat bolady eken-au! Men onshaqty jyl әiel bolyp, bir erkekke birneshe jyl әiel bolyp, ýsh erkekpen bir retten bolghanda erkek pen әiel qatynasynyn múnday tilmen aityp jetkize almaytyn ghajayyp tәtti jaqtary bolatynyn neghyp bilmegem, kórmegem, sezbegem, oqymagham? Alpys eki tamyrym iyip, seldegen sezim býkil jan-tәnimning esh qaltarys quysyn qaldyrmay qamtyp alyp, búrq-sarq qaynauda. Ómirimde birinshi ret miym da bos bolyp, eshqanday problemany oilamay, tek qana әiel boldym. Ol ekeuimiz ghajayyp bir әlemde jýrgendeymiz Tek ghajayyp әlem jәne erkek pen әiel ghana bar, ekeuimizding jan-tәnimiz birigip ketkeni sonday, ajyrasa alar emes. Ol maghan kóbirek lәzzat syilaghysy keledi, al men oghan qalay ynghayly, jaqsy bolady dep yghyna jyghyludamyn. Onday әreketti meni óltirem dep qorqytyp, búiyryp ta, kóp aqsha berip te istete almas edi, al boyyndy órtegen әlde bir seldegen sezim, esinnen aiyryp, ne istep ne qoyghanyndy bilmeydi ekensin. Ol mening eng bir jaqyn, eng bir ayauly adamyma ainalghan.
Esim kiresili-shyghasyly, kózderimdi ashugha shamam jetken kezde, onyng jipsigen mandayyna, keng keudesine, sportpen ainalysqanynyng әlde ainalysatynynyng kuәsindey búltyndaghan búlshyq etterine, shyraylanyp, kýlimsiregen jýzi men júmuly kózderine kózim týsedi. Osy lәzzatty sәtting úzaqqa sozyluy oghan ghana baylanysty ekenin sezingendey, boyynan kýshi keterde biliner-bilinbes toqtata qoyyp, ekeumiz engen ghajayyp әlemning kelesi bir qyzyghyn kórsetedi. Arasynda «aq sazanym-au búlqynghan», «Maralym–au, seni bala tughan әiel dep kim aitady, qúlyn mýsheng búzylmapty»-dep, qúshtarlana aimalay týsedi. Men de sandyraqtap, auzyma týsken nәrselerdi aitqym keledi, biraq aita almaymyn. Úyat sekildi. Oghan degen rizashylyghymdy, ony jaqsy kórip ketken sezimimdi jasyra almay, ol sózder auzymnan eriksiz shyghyp ketkisi keledi, biraq, shygharmaugha tyrysyp jatyrmyn. Dәrigerler men psihologtar aitatyn erkek pen әielding arasyndaghy garmoniya, әiel bastan keshetin biraq, әli óz basym keship kórmegen ghajayyp kýy «orgazm» degen osy shyghar - dep oilaymyn.
Qúdayym-au, ózing keshir, әiel atanyp, búryn kórmegen lәzzatty eshkimdi jaqsy kórmey, ne erkekting ózime degen sezimin sezinbey, esh dayyndyqsyz, bir-aq sәtte bastan keshirip jatqanym, ónimde emes týsimde sekildi. Týs bolsa týsim aq bolsyn, tek ayaqtalmasa eken, eng bolmaghanda sozyla týsse eken deymin. Dosboldyn qimylymen birge boyyma bir kýsh qúiylyp jatyr. Ol kýsh mening ómirdi sýie týsuime, ómirde tek problemalar men qiyndyqtar, iyә danghaza qyzyqshylyqtar ghana emes, eshqanday aqsha satyp әpere almaytyn, eshqanday baylyq bere almaytyn tәtti lәzzaty ghúmyrgha bergisiz, әri osynday aqylgha syighysyz ghajap sәtteri de bolatynyn dәleldep, «kór», «izde», «dәmin tat», «ie bol»-dep, iytermelegendey bolady. Qansha qiynshylyqty bastan keshsem de, ómirdi sýishi edim, endi ómirge odan sayyn ghashyqpyn. Dosbol maghan lәzzat syilaghan sayyn men ózimning әiel ekenimdi jete sezinip, men de oghan tek әiel bere alatyn lәzzat syilaghym keledi.
Búl sәtterde men onyng qanday tilegi bolsa da oryndaugha әzir edim. Biraq, ol eshtene aitpady da, ótinbedi de. Men osynday «orgazm» degendi eki-ýsh ret bastan ótkizgennen keyin, ol meni birese ýstine shygharyp, birese aldyna alyp shyrq kóbelek ainaldyrdy. Onyng qoldary kәdimgi ertekterdegi aitylatyn syiqyrly tayaqsha sekildi edi. Tósindi aimalap, sәl qysynqyraghany da, denendi sonshalyqty bir nәziktikpen, jylylyqpen әri ózimsine syipaghany da, ózining qimyldaryna iykemdegeni de-bәrinen sheber erkekting qoldary seziledi. Onyng kezekti qimylynan, túnshyqtyra ernime jabysyp, dauysynyng bir-eki ret oqys shyghyp, ayaqtarymdy әntek, shalt qimylmen qozghaghanynan aq, boyyndaghy quatyn shyghara bastaghanyn sezdim. Ózining shymyr, et jendi denesimen mening әppaq denemdi jaba sylq ete týsti. Mening mahabbatsyz, sezimsiz sekspen ainalysqan kýnәmdi eshkimge, kerek deseniz anau terezeden jýzip bara jatqan aigha da kórsetkisi kelmegendey jauyp jatyr. Sóz arasynda aityp qalghan 90 kg salmaghyn qauyrsyn qúrly kórip jatqan joqpyn. Basym da, denem de jep-jenil, sonau jalyn shashyp túrghan on segizime qayta oralghandaymyn. Nege ekenin bilmeymin quanyshym qoynyma syimaydy. Men onyng termen jabysqan shashyn sausaqtarymmen taramdap, mening aimaghyma ótken mýshesin jibergim kelmegendey, top-tolyq sandarymnyng arasynda, ishki mýshelerimdi kómekke shaqyryp, «ketpey-aq qoysanshy, sening ornyng osy jer ghoy» degendey, qysyp-qysyp qoyamyn. Ol da «y-y-ym», dep sýisine dauys shygharyp qoyady.
Jyl mezgili kóktemnen jazgha auysa bastaghanda tamasha bir kez bolady. Sol kezde orman arasyndaghy bir alanqayda jatsan, neshe týrli shóp iyisi anqyp, múryn jarady. Al kýn kózining jana qyzu alyp, kele jatqan beti, sol kezde kók shalghynnyng ýstinde kózindi asha almay, maujyrap, әlde bir ghajap kýige enesin. Onyng jýzi dәl sonday bolyp jatyr, maujyraghan jýzinde quanysh pen әlde bir baqyttylyqtyng sәulesi oinap túr. Al mening janym men tәnimnen de quanysh pen baqyttyng lebi esip jatyr. Men osynday kýige kýn sayyn, saghat sayyn, minut sayyn týskim keletinin týsindim. Ol mening ýstimnen jәy ghana audarylyp týsip, jәy ghana óbe bastady, endigi qimyly tipti ózgeshe.
Búrq-sarq qaynaghan qúshtarlyq ta, alyp úshqan sezim, sumandaghan nәpsi, kóp uaqyttan beri erkek qúshaghyn kórmey susyghan inkәrlik-bәri sabasyna týsken, tek erkek pen әielding bir-birine degen rizashylyghy, toyattanu, mastanu jәne ózinning әieldik, iә erkektik bolmysyndy sezinu ghana auada qalyqtap túnyp qalghan. Men osy ekinshi ret kórip otyrghan adamyma ekinshi ret qaryz bolghanymdy týsindim. Onyng «әiel retinde oyanbaghan әiel ekensin» degeni maghan kóp nәrseni úqtyrghanday. Ol on jyl әiel bolyp, eki bala tughan әielge erkek pen әiel arasyndaghy tósek lәzzatyn úqtyrghan alghashqy erkek boldy.
- Bir jaudy jenip kelgen batyrday riza bolyp jatyrsyng ghoy-dedim. Aytqym kelgeni basqa edi. Men ony únatyp qalghanymdy týsindim, biraq, ony ózim moyyndaghym kelmedi, tipti olay oilaugha da qoryqtym. «Áriyne, sendey oyanbaghan, әri qyzu qandy әielmen bolu onay deysing be?» –dedi. Men eki betim duyldap otyryp oghan shyndyqty aittym. Onymen birge boluymnyng basy da, sony da osy shyghar, endi kórmeymin - dep oiladym. Ol shyndyqty aitpaq týgel ózim de moyyndaghym kelmegen. Onyng ýstine erkekke aitugha qalay dәtim barghanyn bilmeymin. Kózderimdi alaqanymmen basyp jatyp, bayau bastaghanym esimde. «Men senimen býgin tósekte alghashqy ret, bolsam da búl týnning lәzzaty birneshe ailargha, mýmkin jyldargha jetetinin bilemin. Men búnday kýidi eshqashan keshken emespin, kýieuimmen de, basqalarmen de (osy jerde artyq ashyq ketkenimdi bilip, mýdirip qaldym) sening ne syiqyryng bar? Ózimdi de týsine alar emespin, búryn tósek qatynasyn tek erkekterge arnalghan nәrse dep úghatyn edim, endi basqasha ekenin bildim, qaramashy, úyalamyn-dep, onyng keudemde jatqan basyn qúshaqtap, shashtaryn úipalaqtaumen boldym. Ol meni qúsha týsip, «sening jan-tәninning qúpiya kiltin tapqanmyn ghoy»-dep bauyryna basa týsti. Birazdan song ekeuimiz ghajayyp dýniyening qúshaghyna qayta endik. Ol mening qúshaghymda ma, әlde men onyng qúshaghyndamyn ba, әiteuir qúshaqtasyp jatyp tәtti úiqygha ketippiz.
Ertenine túrghanda onyng mening kózderimdegi «men izdegen erkek sensin» degen túnyp qalghan syrdy oqymasyn dep, kózderimdi alyp qashyp, oghan tike qaramaugha tyrystym. Eki ret kóre sala qúshaghyna qúlaghanym, mahabbatsyz, sezimsiz, sekspen ainalysyp, endi oghan degen sezimimdi jasyra almay ýzdige qarap túrsam, úyat-ay, masqara ghoy, ne degen jeniltek әiel edi demeydi me? Eshtene sezdirmey, salqyn qoshtasyp qalam dep oiladym. Al ózim, býgin ýileneyik dese de, jalang ayaq qol ústasyp keteyik dese de әzir edim!. «Shirkin-ay, artymnan jyldap jýgirgen anau «shybynsha ýimelegenderdin» -biri nege ol emes» - dep qapalandym. Ol túryp kiyinip, juynyp kelip, shashymnan syipap otyrdy.
- Maral, sen meni keshir - dedi dausy tútygha shyghyp. Ol maghan bir ýkim, birge ótkizgen týnimizding lәzzatyn búzatynday bir nәrse aitqaly túrghanday, boyymdy qorqynysh biyledi. Onday tәtti shaq nege tez ótedi dep, oilaghansha bolghan joq, onyng dauysy alystan talyp estildi.
- Men ózime eshbir әieldi jaqsy kórmeuge, sýimeuge uәde bergenmin. Kerek dese әiel bitkennen kek alugha bekingen edim. Mening jýregimde jara bar, jas jara, qany әli sorghalap túr. Men sýigen әiel meni 20 jyl boyy aldap kelipti. Pәk, qyz bolyp shyqpasa da ony keshirip, ýlken jýrek pen seldegen sezimmen sýiip edim. Al, biraq, on segiz jyl boyy óz balam dep kelgen balanyng ózimdiki emes ekenin tosyn biluden artyq qayghy bar ma? Búdan artyq ne soraqylyq bolushy edi, búl әielder tarapynan bolatyn eng auyr qylmys emes pe? Balamnyng auyr operasiyadan shyqqanyna qaramay, eshtene týsindirmey, ýiden shyghyp jýre berdim. Sol ketkennen mol kettim, әielim bәrin týsindi, eshtene demedi. Balamnyng meniki emes ekeni sol operasiya kezinde anyqtalghan. Bala qanynyng gruppasy mening de, әielimning de gruppasymen sәikes emes. Mende qazirde beytanys adamdy bir kórgennen qanday adam ekenin tanityn qasiyet payda bolghan. Sen taza móldir búlaq sekildisin, sening janyndy jaralaghym kelmeydi, qosh bol. Senimen qoshtaspasam, seni sýiip qaluym mýmkin. Maghan uaqyt kerek. Men senen emes, ýlken sezimnen qashyp baramyn, men endi eshkimdi sýigim de, jýregim men janymdy qinaghym da kelmeydi! Hosh.
...Ol esikti jappastan shyghyp kete berdi. Artynan túra jýgirgim kelgen, oiyma kelgen әldebir nәrselerdi aitqym kelgen. «Qasymda qal» degim kelgen. Saghan mandayy torsyqtay úl tuyp beremin degim kelgen. Qiyn sәtterde onyng moynyna asylyp, qorghanyshym baryn sezinip, qúshaghynda túryp shaghynyp jylap alghym kelgen, quanyshtarymmen bóliskim kelgen, ol júmystan kelgende anamnyng «ýirengening ózine jaqsy, istegening bizge jaqsy»-dep ýiretken tamaq týrlerin aldyna qoyghym kelgen. Songhy kezde qoyyp ketken qasy-kózimdi sәl boyap, әdemi iyis su jaghyp qasynda jaynap jýrgim kelgen...Biraq, onyng birin de aita almadym, әlde aitqym kelmedi, әlde tyndaytynyna senimdi bolmadym...
Ol ketisimen esikti jauyp, nege ekenin bilmeymin qatty jylap qala berdim. Erkekterding ózderi týgil kólenkelerin de kórgim kelmeydi, attaryn da estigim kelmeydi. Men Dosboldy bir jerden shygha keledi me dep әli kýnge kýtip jýrmin. Monshagha barghan sayyn onyng kózqarasyn izdeymin. Qinalghan sәtterimde de ony izdeymin, qol úshyn sozyp, bir qaltarystan shygha keletindey. Týnderde de kirpikterim aiqaspay, tek sonyng qúshaghyn ansaymyn. Balalarymnyng әkesi de sol bolsa deymin. Aylar ótip jatyr, odan kýderimdi ýzgim keledi. Ózime ózim kýn sayyn esep bergende «biz mahabbatsyz, tek sekspen ainalystyq qoy»-dep júbatpaq bolamyn. Sol týnnen beri keudemde payda bolghan jalyndy óshire almay ózime-ózim yzalanamyn. Biraq, bir nәrseni anyq sezdim, maghan odan basqa eshkim de kerek emes. «Shybynsha ýimelegendermen» bolmaq týgili, synamaq týgili, attaryn da estigim kelmeytin boldy. Dosboldyng bir keletinin jan dýniyemmen sezip, әr kýnimdi ýmitpen qarsy alyp jýrmin. Kelmese, izdeymin, ony tabugha belimdi bekem bughanmyn. Ol tórt-bes ayaldama jerde túramyn degen, bildirmey kezdeysoq kezdesken bolamyn. Ony sýietinimdi qalayda retin tauyp bildiremin. Sýietinin aitu tek jigitterge ghana tәn be ? Ony aitugha tek erkekterding ghana qúqy bar ma? Sýietinindi bildiru qylmys emes qoy. Men Dosboldy tauyp, «biz bir-birimiz ýshin jaralghan jandarmyz»-deymin. Ony izdep tauyp qosylatynymyzgha senimdimin. Sәl keshteu bolsa da bizdey jandardyng bir-birin jolyqtyratyny qanday baqyt.
R. QAMIDULLAQYZY
Abai.kz